WHO IS DR. HOLDER?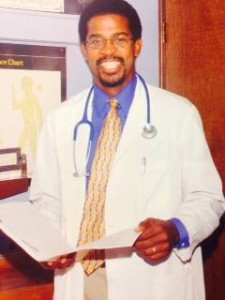 Kevin David Holder, M.D. is the Director of the Center for Preventative Medicine in South Orange, NJ.  Dr. Holder is one of the most well known holistic pediatricians in the Tri-state area.  He is a co-founder of the Wholistic Physicians of NY/NJ, a Board certified physician in Internal Medicine, and Board eligible in Pediatrics.  Dr. Holder graduated from the University of Medicine and Dentistry, where he did a double residency in Pediatrics and Internal Medicine.
Dr. Holder is deeply rooted in neighboring communities, especially in the educational sector.  He is the founder of Successful Encounters, Inc., and served as the Medical Director at the Adolescent Health Center and the Infant Toddler Center at Barringer High School in Newark, NJ.
Dr. Holder has always set high expectations, not only for himself, but for his patients as well. He is a firm believer in making his patients aware of themselves as well as their responsibility to be accountable for their own health care.  He institutes this in his practice, which he opened in 1989, just five short years after graduating from medical school and within months of finishing his 4 year residency.  Dr. Holder brings a wealth of knowledge to the medical field, but most importantly to his patients.
QUOTES ABOUT YOUR DOCTOR
"His ideology is based on seeking to understand the body, and over the last 25 years researching what exists to improve functioning to more naturally adjust the body."  – M.D. News
"Kevin Holder M.D. and William Holder, M.D, board-certified medical doctors, heal patients by incorporating what they learned from their parents, combined with their extensive medical education and their personal study of Eastern and African medicine." – New Jersey Forum
"Dr. Holder's record of success speaks for itself; 20 out of 34 women with fertility problems became pregnant within weeks or after a few months of treatment." – New Jersey Forum
"Drs. Kevin and William Holder were taught two things they never forgot at an early age; be mindful of what they ate and the way they treated others."  – New Jersey Forum